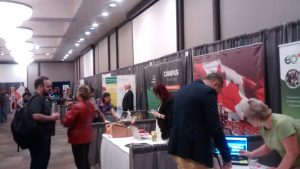 English Online (EO) joined more than 20 exhibitors who participated in the first Career, Education & Settlement Immigrant Fair last May 30, 2016 at the Radisson Winnipeg Downtown. Hundreds of newcomers came to the free expo and benefitted from the information, resources, workshops that were offered to help them succeed in Manitoba.
English Online promoted Live & Learn to the visitors, highlighting the many free settlement and language resources that they can access on the site. Visitors were also encouraged to sign-up for the upcoming Summer Course and Coffee Chats which provide them with essential information to ease their settlement in Manitoba and at the same time help develop their English proficiency. EO attracted several registrants who signed-up at the booth.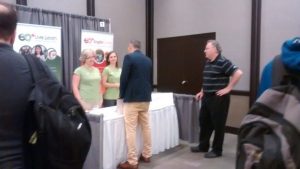 Aside from the tradeshow of exhibitors, the fair also offered free consultation from an immigrant consultant for those who have questions about immigration and sponsorship. Also featured was a day-long resume clinic, and inspirational lectures, including a keynote address from Manitoba Future 40 finalist Nadia Kidwai. Likewise, workshops on taking the IELTS and CELPIP-General Tests, and on the Express Entry were featured at the event.
The Career, Education & Settlement Immigrant Fair was organized by Canadian Immigrant Magazine. Major sponsors include IELTS Canada-British Council, Paragon Testing Enterprises (CELPIP), Arnold Bros. Transport and Northwest Company.