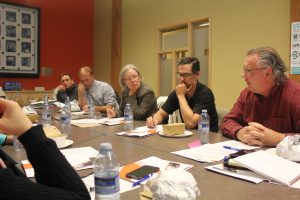 Executive Director of English Online (EO), Dan Sylvester, delivered an overview of the organization's activities last fiscal year (April 1, 2015 to March 31, 2016) at EO's Annual General Meeting (AGM) last September 29, 2016. It was held at the Immigrant Centre's Settlement Boardroom in Adelaide Street. Highlighted were EO's challenges and achievements, noting several major transitions the organization had to face during the period. Despite some setbacks, notable were the increase in learner registrations compared to the same period last year, as well as the growth in learner activities and course offerings. Meanwhile, EO's website, Livelearn.ca, continues to expand its settlement and English language resources for its growing readership.
Present at the AGM were EO Board Members and staff. Iwona Gniadek,
EO's former Lead of Learner Services, was also in attendance.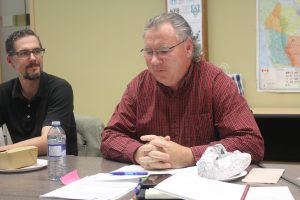 Lead of Settlement and Teacher Services, Natalia Aleko and Coordinator of Learner Services, Margarita Berezyanskaya presented their respective department's accomplishments last fiscal year, as well as plans and programs moving forward. Representative from independent auditors (Collins Barrow), Joan Necor, gave an overview of the organization's Financial Statements for the period.
EO also welcomed three new Board Members at the AGM this year: Greg Reader (Vice Chair), Val Unwin and Mike Livingstone. They join Chairman of the Board Jo-Anne Schick, Treasurer Mary Anne Gribben, Secretary Doreen Cooper, Margery Solomon and Marcella Mangarelli, completing the organization's Board.
For more information about EO's AGM for April 2015-March 2016, you can download a copy of the report from this link: Transition 2015-2016 or visit the Annual Reports section of this website. Your comments and suggestions are always welcome.