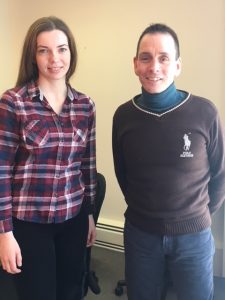 English Online e-facilitators Blaine Roberts and Yuliana Bagan joined over 900 instructors, coordinators and managers from Manitoba, Saskatchewan, Alberta, Nunavut and Northwest Territories at first ever Language Training Learning Event (LTLE) Conference at the Shaw Conference Centre on February 21 and 22, 2018 in Edmonton, Alberta.
The Immigration Refugees and Citizenship Canada (IRCC)-sponsored event focused on language education specifically geared for newcomers to Canada. It featured 52 sessions with over 80 speakers discussing a wide variety of topics including best practices for small centre language programs, trauma and learning, digital literacy for employability, meeting the needs of LGBTQ+ newcomers, health and mental health, indigenous awareness, and many others.
Participants were welcomed to the event by Edmonton Centre MP Randy Boissonnault and MLA for Edmonton-Ellerslie Rod Loyola. Yves Saint-Germain and John Biles from IRCC started off the conference with a briefing on "Directions Forward in IRCC-funded Language Programs". The Language Training Learning Event (LTLE) Conference was organized by NorQuest College's Faculty of Foundational, Career & Intercultural Studies and was the first-ever event of its kind in Western Canada.